OZZY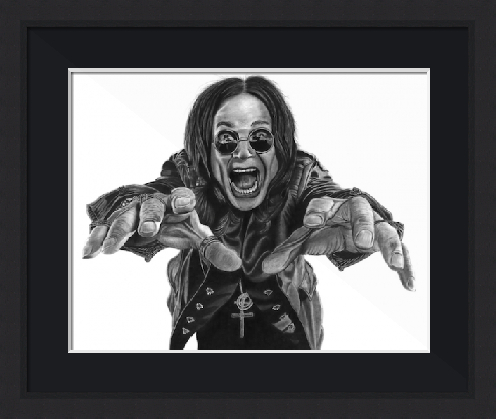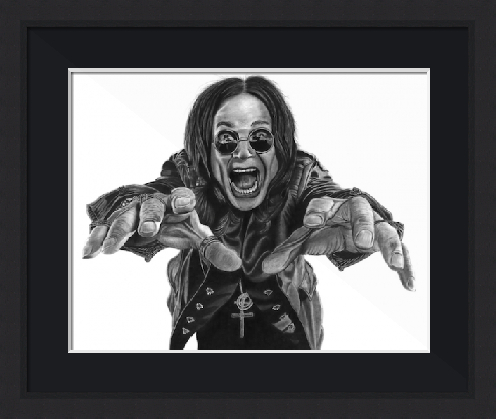 OZZY
These prints are now available in 2 different sizes.
Large Limited Edition Giclee prints (framed & unframed)

Standard size open edition print which comes framed ready to hang.
Limited Edition Giclee Print
Paul has limited reproduction of his work to just 50 very high quality Giclee prints, the image measures 30cm x 40cm and comes with an additional 2cm border - These are printed by Whitewall of Germany on Hahnemühle Photo Rag and are hand signed and numbered. Once Framed the piece measures 45cm x 55cm.
The Paper
With a weight of 308g/m² the Photo Rag is one of the most robust papers from Hahnemühle. It is made of 100% cotton and has a matte surface. With its soft, fine texture, this paper is very versatile and is well suited for Paul's work.
The Ink
Premium K3 pigment print for extra fine tonal variations
Whitewall use the Epson Inkjet 11880 printer for there special, 6-colour UltraChrome K3 pigment print. A total of nine ink cartridges - six colours and three shades of black - ensures the very finest tonality. In the deep blacks and light areas of your theThe image content is reproduced with a perfect grey balance and an ultra-high resolution of 1,440 dpi. Perhaps even more impressive, however, is that the colours of the Hahnemühle Fine Art Premium print will look just as good as the original, even after 100 years.
Frames
The Frames are provided by Brampton Framing in Derbyshire and come from their 'Urban' Range.
Width: 20mm, Depth: 33mm, Profile: Flat, Wood Type: Ayous
2. Standard Open Print - Framed
These are printed by a professional nationwide printing company on Fuji film paper using pigment inks that will not fade. They are then double mounted using conservation mount board and placed into a hand made frame by 'St. Ives Framing Co. Ltd', producing a very high quality product that measures 11' x 11' (28cm x 28cm) -and a perfect gift.
Both products are delivered in the UK FREE - if you have any questions about either product please feel free to ask.